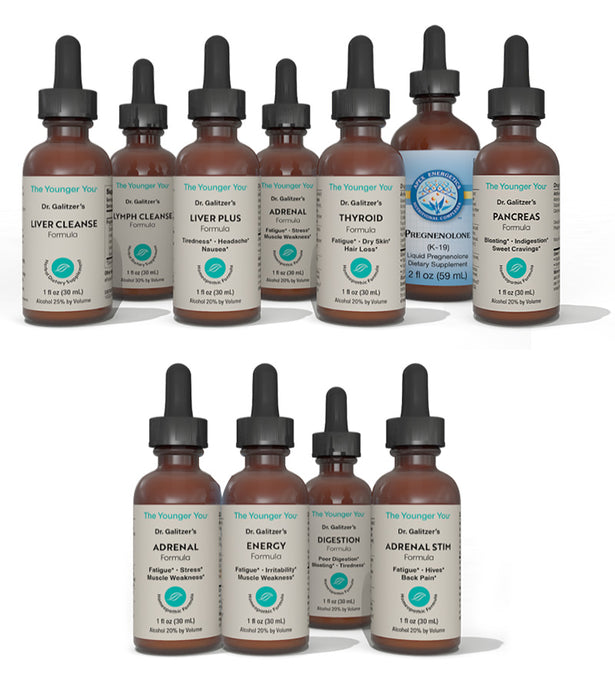 Product Description Next
The Younger You® – Female Two Month MultiPack
Live better and feel better while minimizing the effects of aging with Dr. Galitzer's Female Two Month Multipack. The Program is divided into two months, targeting specific restorative goals each month to help women as they age:
Drain Toxins
Balance Metabolism
Regenerate Organs
Phase One:

Start the process of toxin elimination through drainage of the Liver and Lymph

Restore the natural sleep cycle

Strengthen the energy of the Liver, Pancreas, Thyroid, and Adrenals
Phase Two:

Increase Adrenal Hormone production

Improve the tissue receptivity to one's own sex hormones, and to enhance the effect of prescribed bio-identical hormones
The regeneration formulas that are used are homeopathic, in that they are dilutions of substances from the plant (herb) and mineral kingdom. They have been specially formulated to enhance regeneration by providing advanced natural medicine support to the detoxification and drainage process, thereby maximizing recovery and optimizing health. Get started on your way to a healthier life today with these all-natural, homeopathic formulas.
Month One Includes (1 oz.) bottles of each:
Liver Cleanse – enhances the liver's ability to excrete toxins
Lymph Cleanse – enhances the flow of lymph within the body
Liver Plus – promotes the cleansing effect of Liver Cleanse
Adrenal – promotes adrenal health, thereby minimizing fatigue
Thyroid – promotes thyroid health and metabolism
Pregnenolone (2 oz.) – enhances memory and is an adrenal hormone
Pancreas – minimizes sugar cravings
Month Two Includes (1 oz.) bottles of each:
Adrenal – promotes adrenal health thereby minimizing fatigue
Energy – promotes a healthy immune system
Digestion – helps to support pancreatic function
Adrenal Stim – supports protein synthesis within the adrenal gland
Liver Cleanse – enhances the liver's ability to excrete toxins
Lymph Cleanse – enhances the flow of lymph within the body
Liver Plus – promotes the cleansing effect of Liver Cleanse
Adrenal – promotes adrenal health, thereby minimizing fatigue
Thyroid – promotes thyroid health and metabolism
Pregnenolone (2 oz.) – enhances memory and is an adrenal hormone
Pancreas – minimizes sugar cravings
Month Two Includes (1 oz.) bottles of each:
Reviews